ACK Curates
Under the curatorial theme of "Flowers of Time," ACK will be exhibiting at the ICC Kyoto and the Hongwanji Dendoin.
Satellite Program Flowers of Time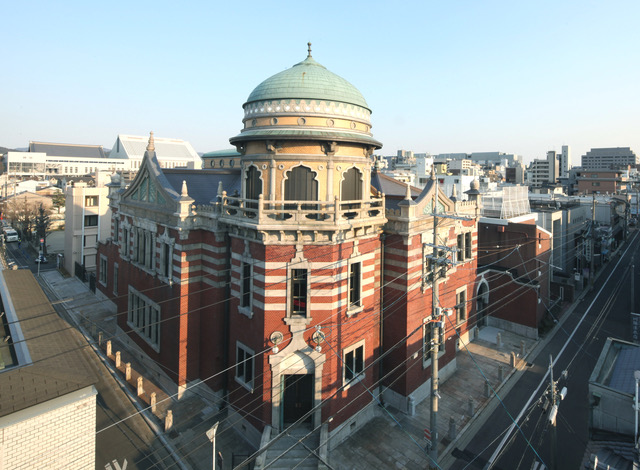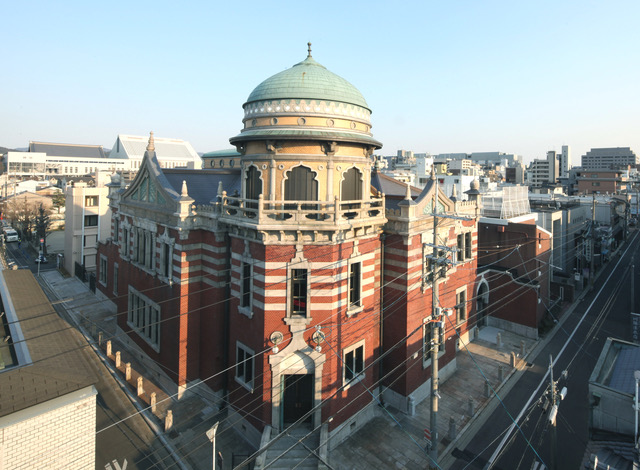 The "Flowers of Time" exhibition, a Satellite Program curated by ACK Program Director Yukako Yamashita, will take place at Hongwanji Dendoin. The exhibition explores the concept of "time," which we all have in equal measure, through an eclectic range of works by world-renowned and emerging artists.
The exhibition introduces a wide range of works related to time, starting with works that evoke a universal concept of time, through to works exploring "memory" as something experienced individually, to "history" representing cultural phenomenon, as well as "traces" of time held by objects. By considering time not only in the usual manner as something relative, but also as something infinite that is beyond comprehensive, yet something finite that is within each of us, the exhibition asks how we can respect one another and coexist in the time – limited and impartial – we are living today.
The venue, Hongwanji Dendoin, is an important cultural property built in 1912 to the design of Tokyo Imperial University professor, Chuta Ito. Not normally open to the public, it is a unique building that incorporates various architectural styles, including brick walls based on British architecture and an Islam-inspired dome.
Artists: Felix Gonzalez-Torres, Eugene Studio/ Eugene Kangawa, Shinya Kato, Lee Mingwei, Yukio Nakagawa, Mayuko Ose, Kour Pour, Rui Sasaki, and Elaine Stocki
Dates and Hours:
November 10 Thurs.–20 Sun. 10am–5pm
*By invitation only: November 17 Thurs.
Venue: Hongwanji Dendoin (Google Map)
Admission: ¥1,000
Special Partner: Rakuwakai Healthcare System


Exhibition Statement
At a time when western architecture was flowing into Japan, Chuta Ito, the architect who designed Dendoin, used the re-examination of eastern architectural style to "westernize eastern architecture". He was not caught up in the trappings of fashion and capitalism, but rather seemed to have a respect and gaze for the culture and tradition, an accumulation of time that humanity had built. This exhibition, in a building that embodies this practice, will introduce works of art that involve varying ways we are involved in time, and culture, memory, and traces that are shaped within it.
The exhibition begins with the limited time given individual lives, and the infinite time spun through threads of life and death. From there, it goes on to individual time as memory, time held by objects as vestiges, cultural time as history. It develops into works that cross over culture and time, works that have a nostalgia for time of existence outside of humans. And finally, it separates from the relativistic concept of time that we recognize, and by experiencing absolute time in a place where there is no clock, no light, and no reminders of time, asks us again to think about what time is to us.
Yukako Yamashita (ACK Program Director)
Artwork/Artist Profiles
Felix Gonzalez-Torres

Felix Gonzalez-Torres uses clocks, paper, candies, lights, and other everyday materials to express continuous time and approaches to life within such ideas as love and loss, or death and rebirth. "Untitled (March 5th) #2" is a work based on such a theme. There are two lightbulbs, and even if one goes out, the other continues shining. And by changing the burnt-out bulb, an eternal light burns in the venue. This work teaches us that if the light represents us, or a single spark of life, even if each one has a limited time, the successions mean that it will continue uninterrupted into the far future, spreading infinitely.

Felix Gonzalez-Torres (b.1957, Guáimaro, Cuba) lived and worked in New York City between 1979 and 1995. He began his art studies at the University of Puerto Rico before moving to New York City, where he attended the Whitney Independent Study Program, first in 1981 and again in 1983. He received his BFA from Pratt Institute, New York, in 1983 and his MFA from the International Center of Photography and New York University in 1987. From 1987 to 1991, Gonzalez-Torres was a part of the artist collective Group Material. He died in Miami on 1996 from AIDS-related causes.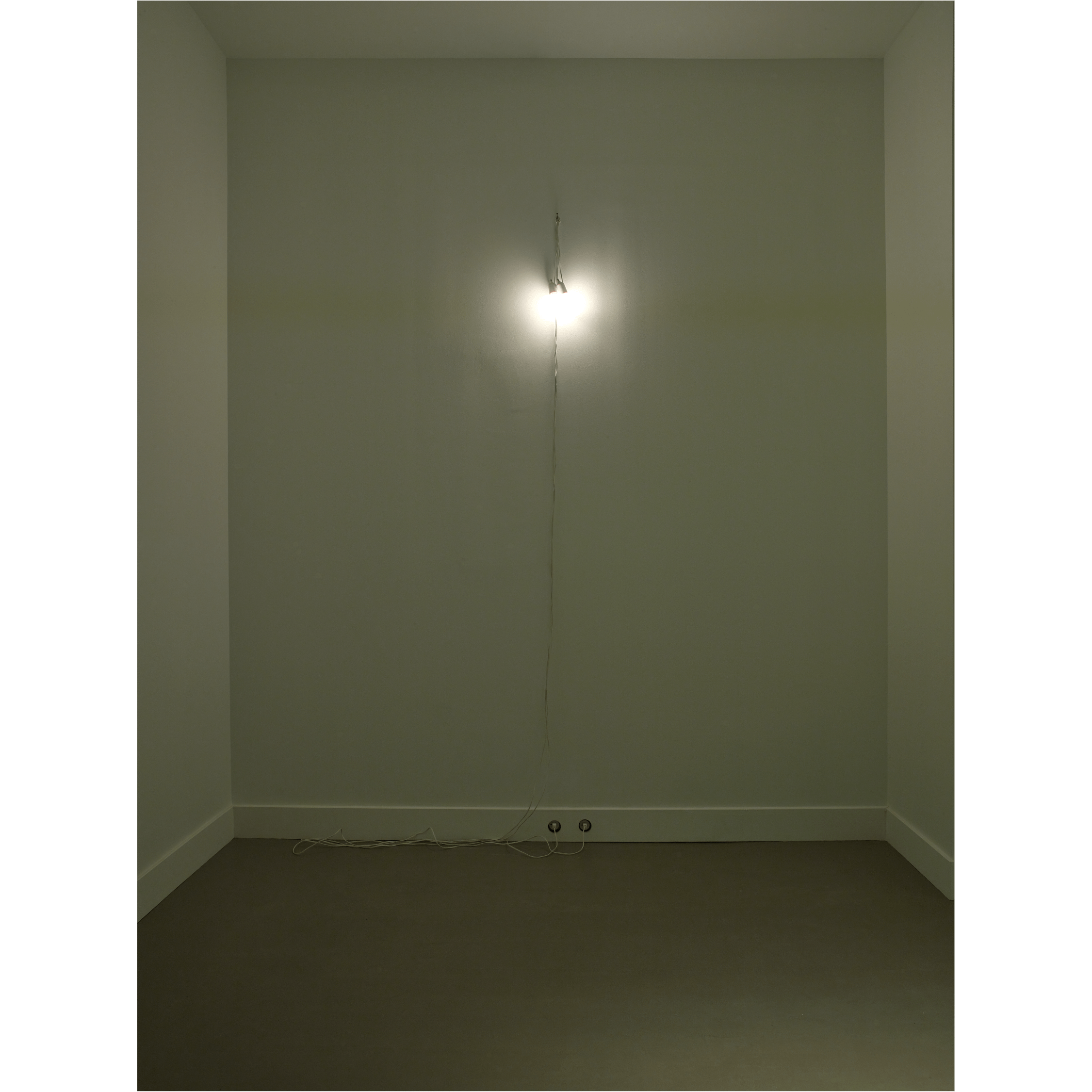 Eugene Studio / Eugene Kangawa

Eugene Studio/ Eugene Kanagawa expresses fundamental subjects such as life and death, light and shadow, through two-dimensional works and installations composed of brief elements.

The "Light and shadow inside me" series is created using natural and artificial light.
The green ones are made using the fading effect of paper coated with water-based paint, folded into polygonal columns and exposed to the sun for several weeks. The monochrome ones are made by the simple act of folding silver-halide photographic paper in a darkroom, shaping it into polygonal columns, and exposing it to a brief flash of light. The gradations on the surface show relative and objective facts, like the shape this paper was folded into and the positioning of the sun and light. It reminds us that we are constantly changing in response to external influences.

"Image / Imagine #1 man" is a hand-made figure of a man, the entire process of which takes place in total darkness, and is exhibited in an equally total darkness of a room. Due to this, even the artist, Eugene Kangawa, does not know all the details of the sculpture, and no one has ever seen it before. When entering the dark room, viewers must leave behind things that offer objective information such as watches and mobile phones, and enter alone. Objectivity is eliminated, and in the dark they touch the sculpture, and through imagining the object, have a very individual and relative experience. Through this experience, perhaps we will question the existing senses within ourselves.

Each person will be admitted to the "Image / Imagine #1 man" room on a timed changeover basis. Those wishing to enter will receive a numbered ticket at the venue on the day, so please ask at the reception. Numbered tickets are available on a first-come, first-served basis and are valid for the day of you received only.
*Please understand and cooperate that the number of people entering the venue is limited due to the time required to view the exhibition.

Eugene Kangawa(b. 1989, US) is a Japanese artist. He is known for many paintings and installation works. Past shows include "EUGENE STUDIO After the rainbow" (2021-22, the Museum of Contemporary Art Tokyo, Tokyo), "de-sport" (2020, the 21st Century Museum of Contemporary Art, Kanazawa), "89+" (2014, the Serpentine Gallery, London ), "Shikkoku-Noh" (pitch darkness-Noh) (2019, the National Art Center, Tokyo).

Shinya Kato

With "Thousand Stories," Kato collects photos of people printed on vintage cabinet cards, and paints abstract images on them. Vintage cabinet cards were popular from the 1870s to the 1900s, and were made by printing portraits or photographs of families onto thick cards, and in many cases the logo of the photo studio is included at the bottom. For the artist, these cards are unfamiliar both chronologically and culturally. By daring to confront something that is alien to him, and adding his own touch, he transcends time and space to have a dialogue with the individuals depicted in the photographs.

Shinya Kato (b. 1986, Aichi), based on New York, graduated from Nagoya City Industrial arts High School, Department of Design. Having grown up in a generation between the analogue and digital worlds, with the changing definitions and values of materials, he began to create works composed from multiple perspectives. He pursues his own unique expression using not only painting but also photography, design and a wide range of other techniques.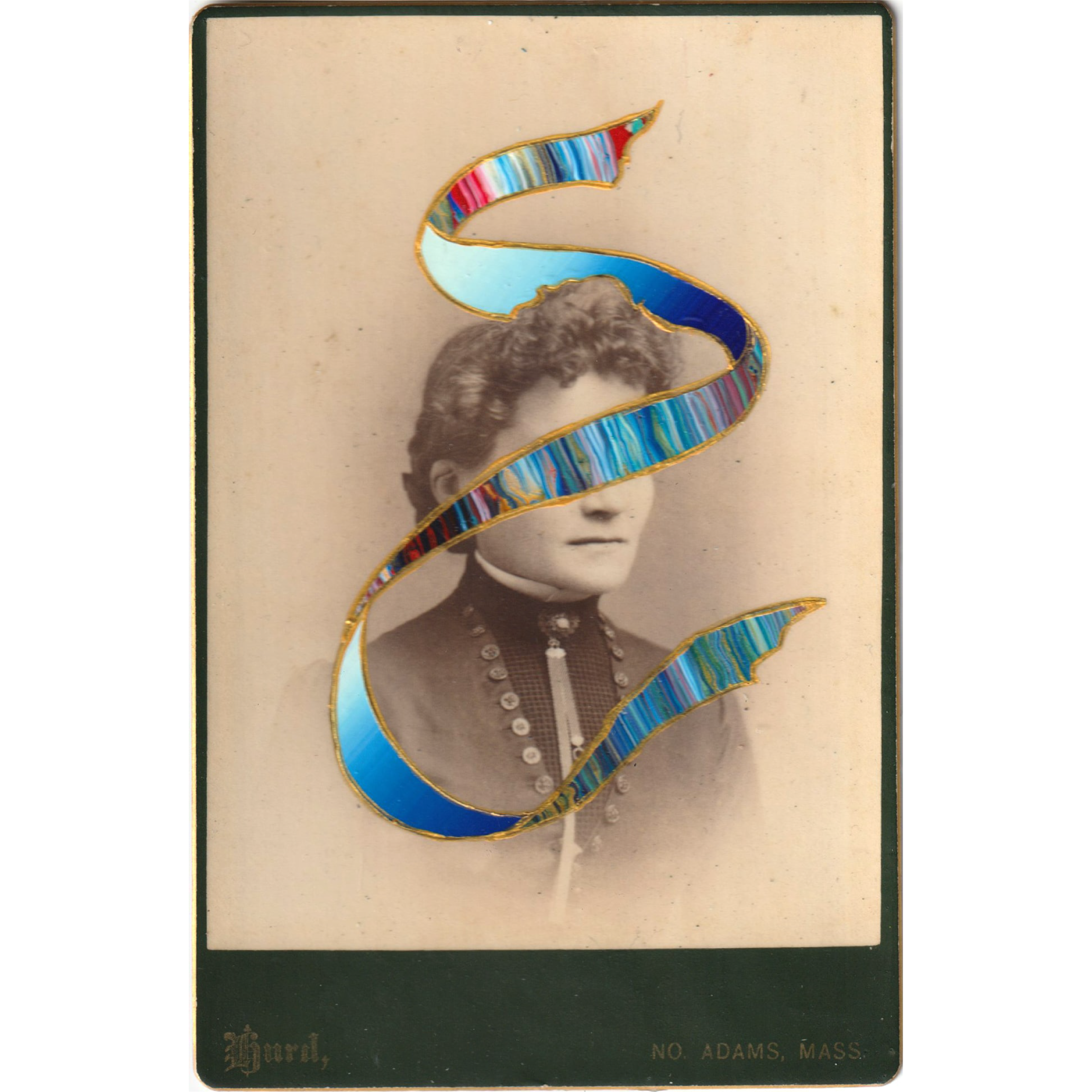 Lee Mingwei

When Lee's grandmother died, as a memorial and to process the loss, he planted bulbs of a flower that reminded him of his grandmother, the lily, and spent one hundred days living with them, creating "100 Days with Lily." This work is made up of photographs taken from that period, overlaid with text that simply spells out the daily actions he took. On day 79, the lillies died, but he continued the project until the 100th day. This shows the artist's respect for his grandmother and his own deep insight into the cycle of life.

Lee Mingwei (b. Taiwan) currently lives in New York and Paris. He creates participatory installations, where strangers can explore issues of trust, intimacy, and self-awareness, and one-on-one events, in which visitors contemplate these issues with the artist through eating, sleeping, walking and conversation. Lee's projects are often open-ended scenarios for everyday interaction and take on different forms with participants' involvement and change during an exhibition.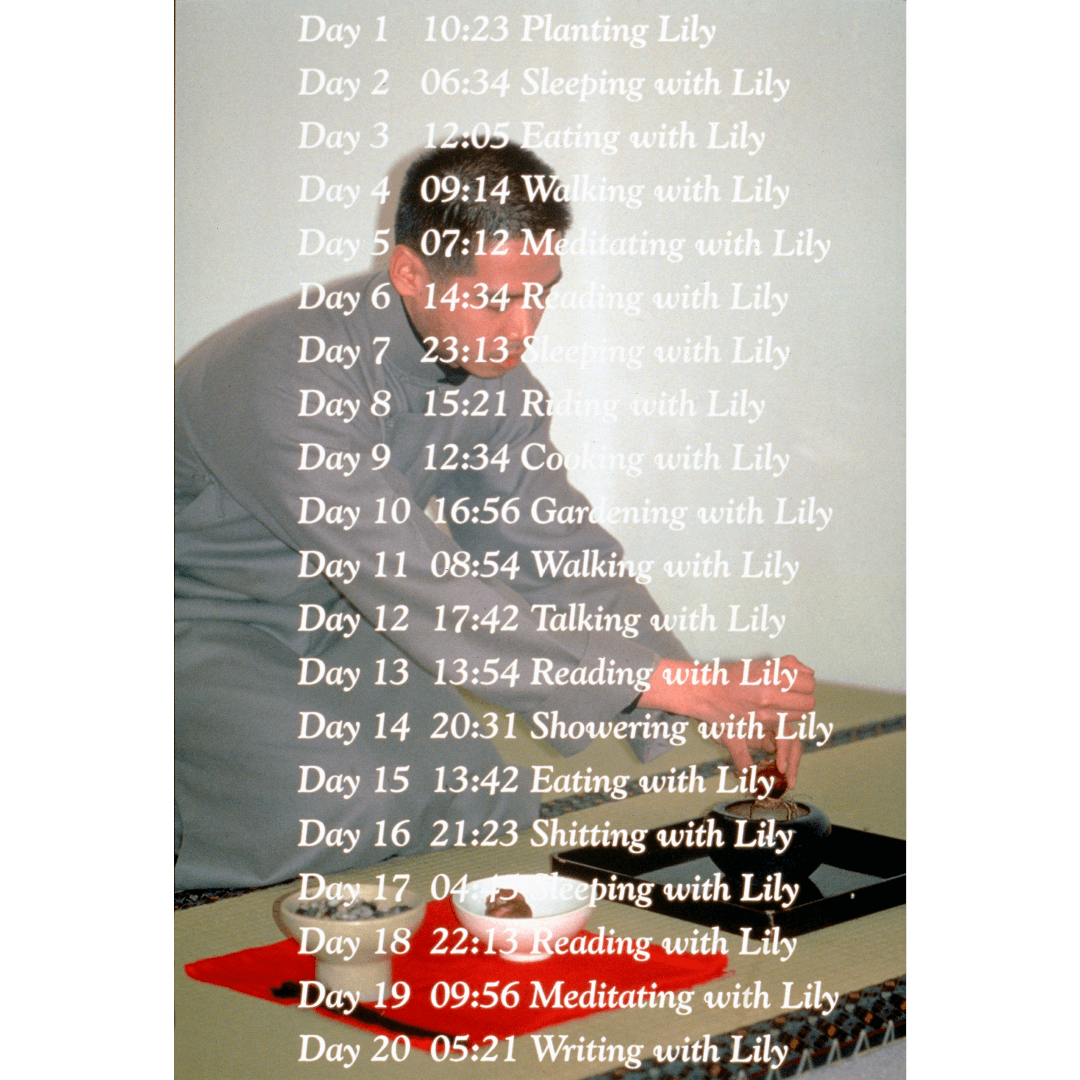 Yukio Nakagawa

Ikebana artist Yukio Nakagawa explored the possibilities of arranging flowers, and re-examined the pre-existing concept of ikebana. For example, compacting a large volume of flowers, or letting them rot, resulting in a presentation of flowers that no longer resemble flowers, or a mass of what used to be flowers. The liquid squeezed from the flowers was red like blood, dyeing that place. It reeks of death, in contrast to the sense of life found within traditionally-arranged flowers. Nakagawa's works accept the fact of the death of flowers head-on, and begins by gazing at the time there, and the time and life that continues from that point.

Yukio Nakagawa (b. 1918, Marugame, Kagawa) is an ikebana artist who first encountered ikebana in his 20s, left the school at the age of 33 and moved to Tokyo at the age of 38. He never belonged to any organisation or school, never took on apprentices, and continued to create avant-garde and innovative works as an artist. His unique works, in which he pursued the essence of flowers and broke with traditional concepts, have been highly acclaimed both in Japan and abroad.
He died in 2012 at the age of 93.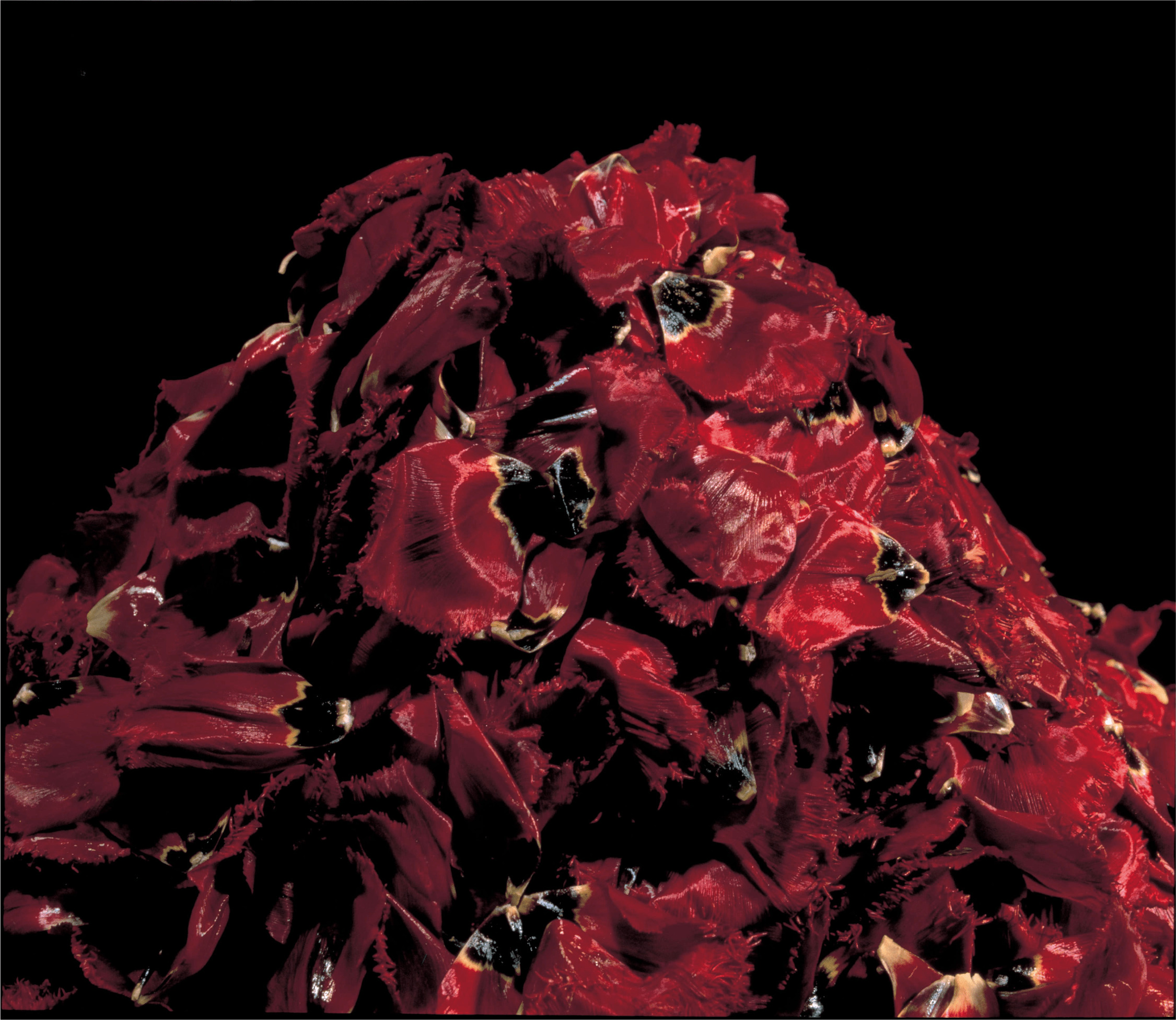 Mayuko Ose

Mayuko Ose creates artwork based on extremely individual memories and experiences. "Can't Wake Up" depicts her own experience of sleep paralysis. One theory about sleep paralysis is that it occurs when the brain has woken up, but the body has not. At that moment, the consciousness and the flesh are in a sense separated, on separate time axes. She depicted this unusual situation subjectively, using traditional Japanese painting techniques combined with a flat graphic design aesthetic. This combination enables the coexistence of two times: the long memory of the time that is certainly still alive in Japanese painting, and traces of her contemporary update.

Mayuko Ose(b. 1996, Kanagawa, Japan) graduated from Tama Art University in 2018 with a major in Japanese painting, and completed her master's degree in Japanese painting at Tama Art University in 2008. She mainly creates Japanese paintings of groups of people, referring to post-war Japanese photographers, dramatic paintings of the 1960s and 1970s, as well as Japanese graphic design and painting.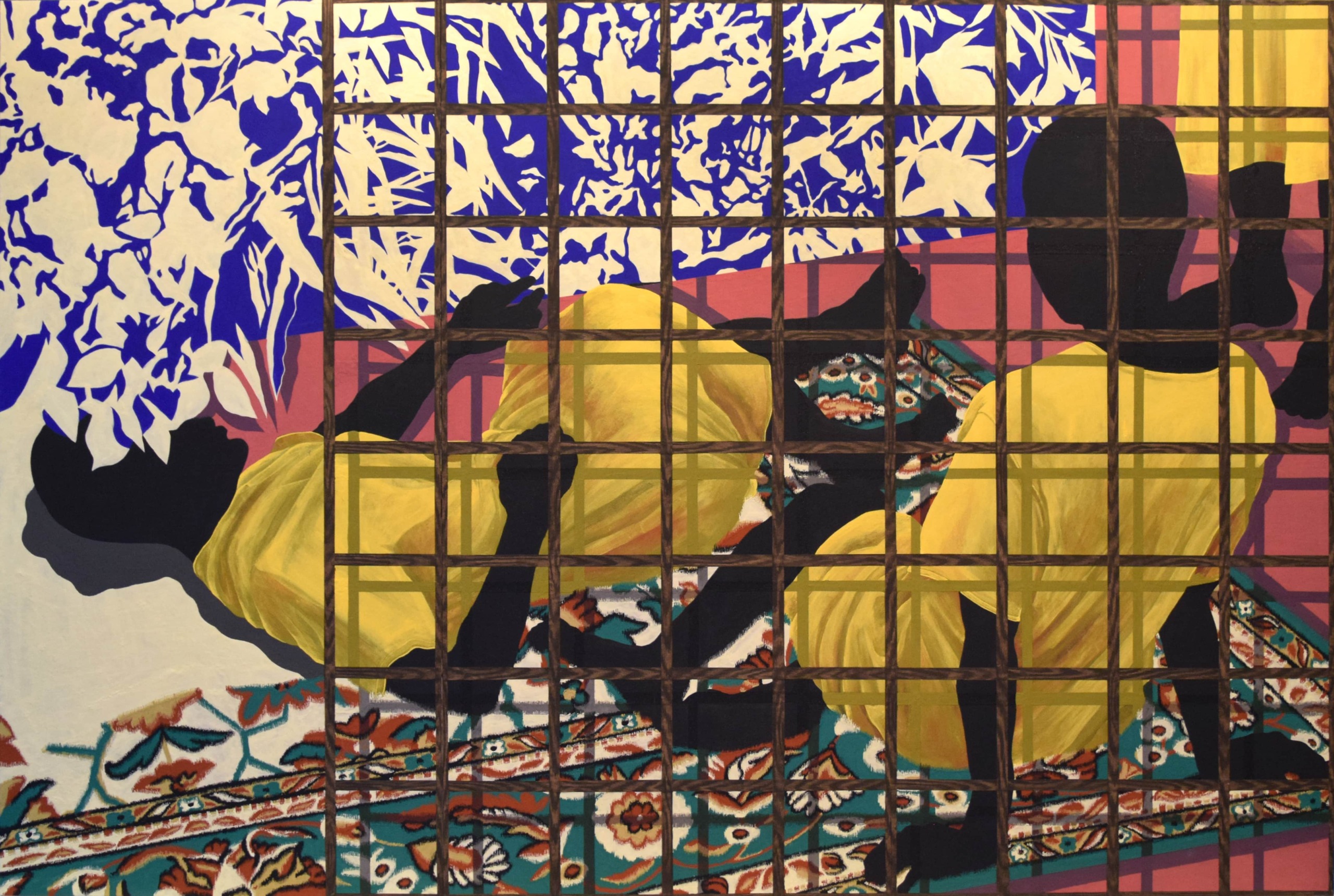 Kour Pour

With roots in three countries: England, Iran, and the United States, Kour Pour creates works that overlap his multicultural roots, and the cultural exchange and historical transition in painting. For example, in "Inside Gathering," there are references to the miniatures that developed in the Islamic world, and it is framed with a western-style shaped canvas. He often uses "foster" as a word to explain his methods. This refers to his process of sampling various cultural motives and developing them into his own unique works. That is, these cultures that took a long time to form are intermingling and developing in a complex way within his artworks.

Kour Pour(b. 1987, UK) is a British-Iranian-American artist whose visual language is informed by longstanding, global traditions of intercultural exchange. By intersecting a wide range of material and aesthetic conventions that are connected to various geographic, cultural, and national heritages, Pour allows for a remapping of the standard understanding of "Eastern/Western" cultural exchange.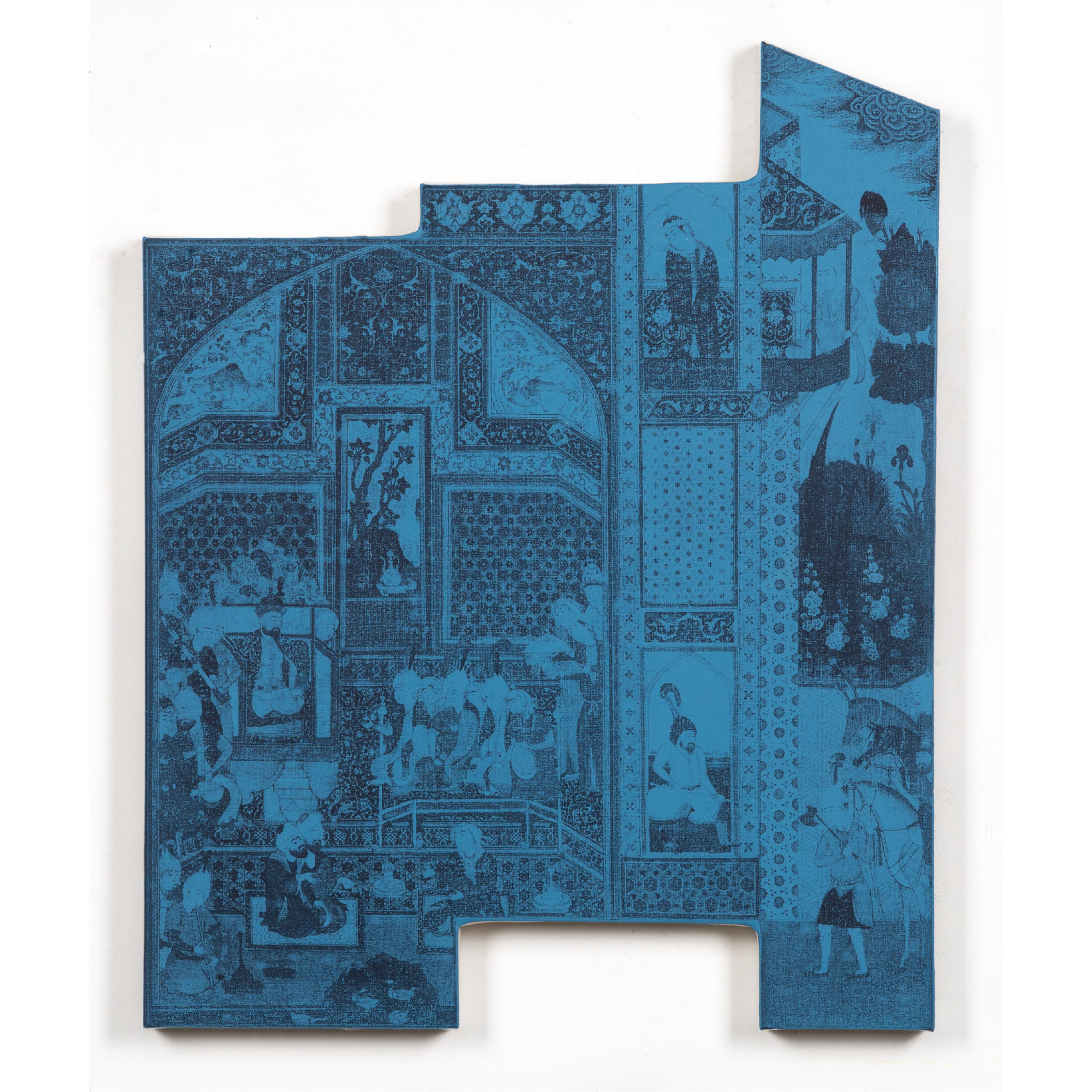 Rui Sasaki

With "Unforgettable Gardens:The Last Lily," plants have been sandwiched between glass and fired so that the forms and the actual ashes of the obliterated plants themselves remain encapsulated. The artist collects plants directly for their connection to her own memories. In the process of firing her work, the water and minerals in the plants react and create unique bubbles and shapes in the glass. Within this work are three kinds of time: the memory of the plants that existed, the artist's own memories, and the memory of the earth contained within the plants themselves.

Rui Sasaki (b. 1984, Kochi) is currently based in Kanazawa, Ishikawa, Japan. She employs glass as a material that makes it possible to document and preserve the presence and, through her works, explores "subtle intimacy" perceived in places she/he is present. She has been invited to many exhibitions around the world and has been a grand prize winner of such as the Jutta Cuny-Franz Memorial Award (the Museum Kunst Palast, Germany), the 33rd Rakow Commission (the Corning Museum of Glass, the US). Her work is a part of permanent collections in many museums all over the world, such as the Latvian National Museum of Art (Latvia) and the Toyama Glass Art Museum (Japan).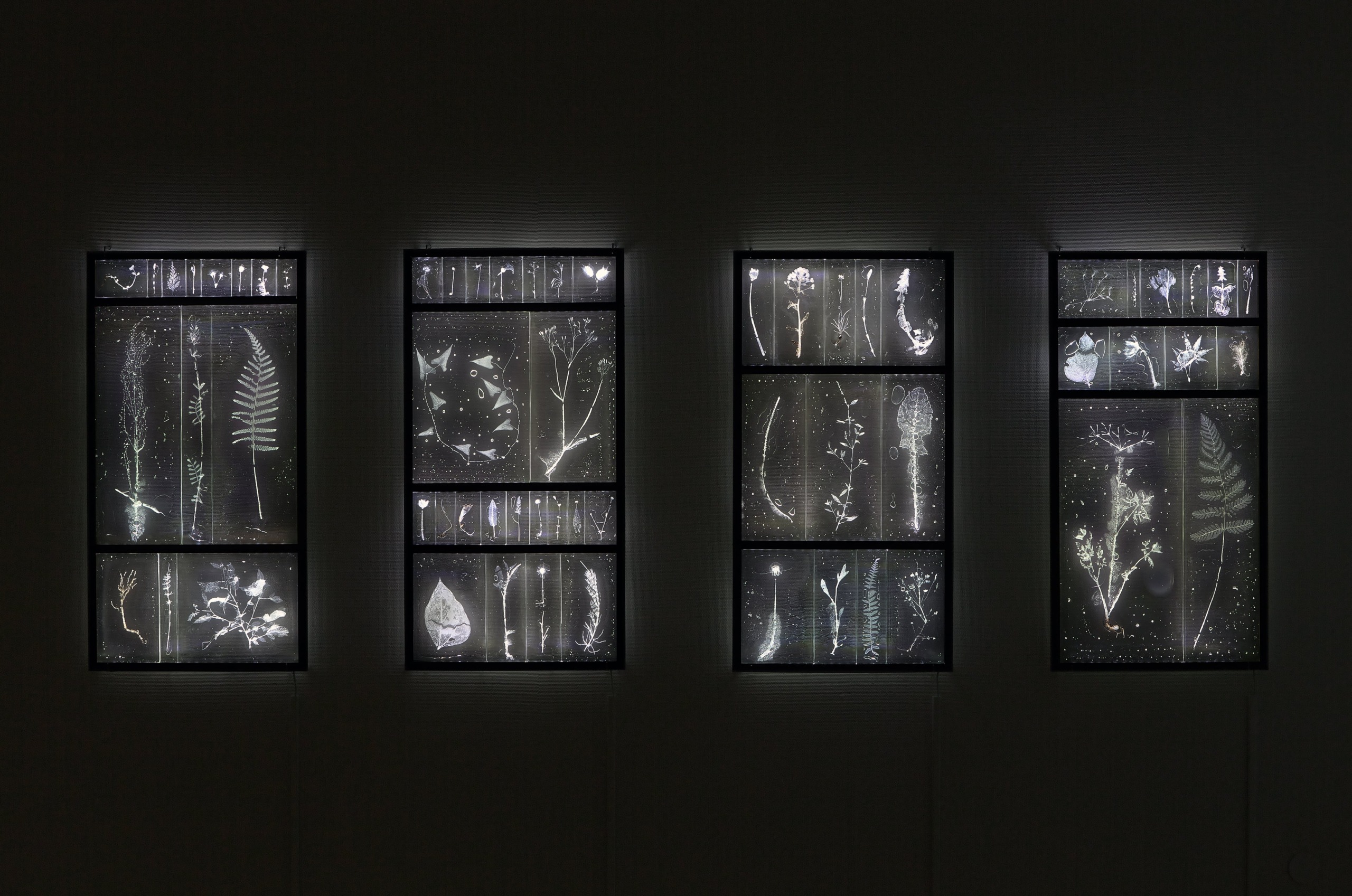 Elaine Stocki

Elaine Stocki skillfully uses many techniques to create a single work of art. For example, "The Slouch" was made by first creating a pattern. Linen was stitched together, and the act of painting began with watercolor poured on the exposed seam side. Intuitively responding to the stains made by the watercolor, sections were removed, resewn, and coated with oil paint.
This is not just the act of creating an artwork, but also contains the aspect of labor within acts of sewing. This process and the countless vestiges marking the surface question the the border between art and labor in society and its historical background.

Elaine Stocki (b. 1979, Winnipeg, Canada) currently lives and works in Los Angeles. She holds degrees in both Chemistry and Fine Art from the University of Manitobaand an MFA from Yale University. She has exhibited at Nicelle Beauchene Gallery, New York; the Philadelphia Museum of Art, PA; and Deutsche Guggenheim, Berlin, among others. In 2019, Stocki's first monograph was published by SKIRA Paris. Her work is included in the permanent collections of the Los Angeles County Museumof Art (LACMA) and the Philadelphia Museum of Art.